The idea for "Speedminton®", the game, was born in Berlin Kreuzberg. In the beginning only a few people played in the local parcs. But within just a couple of years people from all over the world started to play and love Speedminton®. Nowadays Speedminton® is played on all 5 continents. In 2013 players from 52 nations conquered against each other during the 2nd ISBO Speedminton® World Championships.

[WWW.SPEEDMINTON.COM]
Speedminton® - The Original
Speedminton® is aware of its responsibility as a company in our society. As employer and manufacturer we set value on a fair treatment of our employees as well as a high-quality and at the same time environmentally friendly production. The high quality of Speedminton® products as well as a production process according to REACH standards was both attested by several independent institutes.
Many of our sets are packed in the handicapped factory "Lebenshilfewerk Mittleres Erzgebirge e.V.".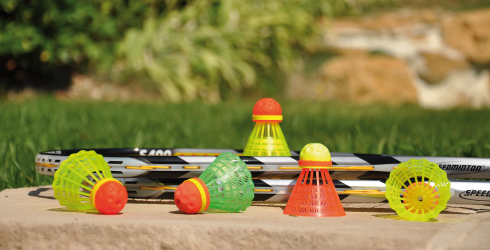 Our Centerpiece - Speeder® Made in Germany
The worldwide patented Speedminton® birdie is called Speeder®. Speeders are the only Crossminton / Speed Badminton shuttles not produced in China but 100% manufactured in Sachsen/Germany using only high end Swiss synthetics and other recyclable materials. The Speeder® is the only ICO certified birdie and is exclusively used at all ICO competitions worldwide.

Due to its waved shape dress, the Speeder® rotates while it moves through the air. The result: Wind resistance and accuracy! Only the Speedminton® Speeder® allows you to play in the dark as well! By using the Speedlight and NIGHT Speeder®, you have glow in the dark fun for up to 3 hours.
Per Hjalmarson, Winner of the World and the European Championships,
"The Speedminton® Speeder® is the only competitive Speed Badminton birdie available and it even survives my 250km/h serves!"

Rene Lewicki, ICO-President,
"The Speeder® from Speedminton® is the only Speed Badminton birdie made outside China. By being produced in Europe, it gives it a unique quality and appeal to it."
Due to continuous improvements, many years of experience, our own quality control process in manufacturing and the usage of approved quality materials, it is ensured that we provide only the best rackets for this fast and thrilling sport! By frequently testing our products, it is guaranteed that only EU certified materials are used in producing Speedminton® equipment.

Our own quality control process in manufacturing in China secures fair working conditions and an environmentally friendly production. These are all reasons that more than 90% of all international pros put their trust in the Speedminton® Equipment.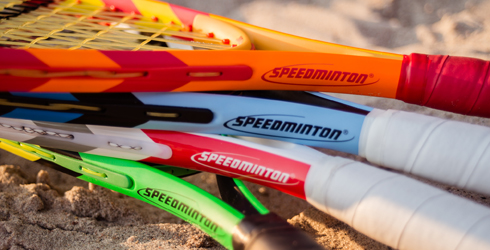 Choose quality when it comes to sporting equipment and join the 2.5 Million customers around the world who already use and trust in our equipment when it comes to playing the world's fastest and most fun racket game!